Peningkatan Kualitas Publikasi dan Pengembangan Karier Inspektur Penerbangan melalui Pelatihan Karya Tulis Ilmiah untuk Direktorat Navigasi Penerbangan
Dian Anggraini Purwaningtyas

Politeknik Penerbangan Indonesia Curug, Tangerang, Banten

Imam Sonhaji

Politeknik Penerbangan Indonesia Curug, Tangerang, Banten

Nawang Kalbuana

Politeknik Penerbangan Indonesia Curug, Tangerang, Banten

Khoirul Anam

Politeknik Penerbangan Indonesia Curug, Tangerang, Banten

Ego Widoro

Politeknik Penerbangan Indonesia Curug, Tangerang, Banten
Keywords:
Inspektur penerbangan, Karya Tulis, Kompetensi, PKM
Abstract
Capacity building that supports the career of aviation inspectors, one of which is by writing papers. The need for partners, namely the Directorate of Aviation Navigation, will increase the competence of navigation inspectors to write papers, so scientific writing training is held. This activity is carried out for 5 days with lecture and practice methods. there are 5 main materials that are the subject of discussion and 9 sub-topics and added with practice. Of the 25 participants, 95% stated that it was useful and 100% succeeded in making the manuscript and submitting the article. Further assistance is needed so that participants can conduct research or studies and publish written works in reputable journals
References
Day, R. A., & Gastel, B. (2012). How to Write and Publish. Cambridge University Press.
Goma, E. I., Saputra, Y. W., Sandy, A. T., & Ningrum, M. V. R. (2022). Pelatihan Mendeley Reference Dalam Mengelola Referensi Karya Tulis Ilimiah. Jurnal Pengabdian Masyarakat Ilmu Keguruan Dan Pendidikan (JPM-IKP), 5(1), 1–8. https://trilogi.ac.id/journal/ks/index.php/jpmikp/article/view/1194
Isradi. (2022). Mendeley Management Reference Application and Scientific Writing Strategy. The Spirit of Society Journal, 6(1), 1–11.
Kementerian Perhubungan. (2021). Organisasi dan Tata Kerja Politeknik Penerbangan Indonesia Curug. 21.
Marlena, N., Dwijayanti, R., Patrikha, F. D., & Parjono, P. (2017). Pelatihan Penulisan Karya Tulis Ilmiah (Kti) Bagi Guru Sma Swasta Di Sidoarjo. Jurnal ABDI, 2(2), 45. https://doi.org/10.26740/ja.v2n2.p45-50
Munir, A. M. (2021). Kebutuhan Pelatihan Karya Tulis Ilmiah Bagi Pejabat Fungsional Hasil Penyetaraan Jabatan. Jurnal AgriWidya, 2(2), 25–40.
PANRB, K. (2020). Permenpan 16 Tahun 2020. 1–23.
Perhubungan, K. (2020). PM 18 Tahun 2020. 1–23.
PPI Curug. (2020). Rencana Induk Penelitian. Dokumen Pedoman, 39(5), 561–563.
Sahudra, T. M., Fadlia, F., & Firdaus, C. R. (2022). Pelatihan Penulisan Karya Ilmiah untuk Peningkatan Profesionalisme Guru. Majalah Ilmiah UPI YPTK, 3(1), 97–102. https://doi.org/10.35134/jmi.v29i2.121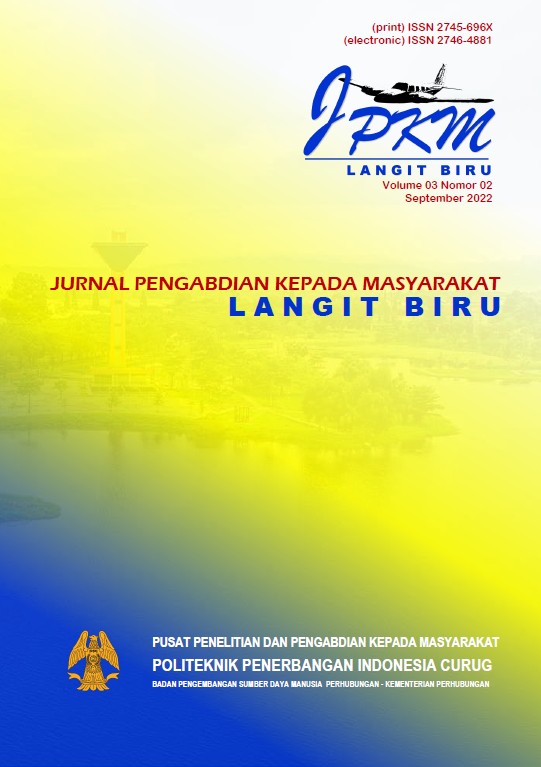 Copyright (c) 2023 dian anggraini
This work is licensed under a Creative Commons Attribution-NonCommercial-NoDerivatives 4.0 International License.