Pengenalan Hazard Identification Methods and Tools Sebagai Implementasi Safety Risk Management
Dwi Lestary

Politeknik Penerbangan Indonesia Curug, Tangerang, Banten

Dhian Supardam

Politeknik Penerbangan Indonesia Curug, Tangerang, Banten

Rany Adiliawijaya

Politeknik Penerbangan Indonesia Curug, Tangerang, Banten

Imam Sonhaji

Politeknik Penerbangan Indonesia Curug, Tangerang, Banten

Surya Tri Saputra

Politeknik Penerbangan Indonesia Curug, Tangerang, Banten
Keywords:
Safety Management System, Aviation Personnel, Hazard Identification, Methods and Tools
Abstract
Aviation safety is the concern  and responsibility of all parties, not only in theory but also in practice, through a continuous process of identifying hazards, managing risks, and meeting performance expectations. Safety Management System training is mandatory for all aviation personnel as stated in the Regulation of the Minister of Transportation of the Republic of Indonesia PM No. 62 of 2017 (Civil Aviation Safety Regulation Part 19) concerning Safety Management Systems. As a unified implementation of the important pillars of the safety management system, participants are expected to be able to prioritize risks based on severity, manage risks, find potential risks with minimal effort, carry out records and audits, and neutralize possible consequences. Therefore, this training will introduce methods for identifying potential hazards. Community Service Activities (PKM): Introduction to Hazard Identification Methods and Tools for the Implementation of Safety Risk Management are carried out online through an online meeting application, namely Zoom. Participants are PPI Curug alumni and SMS experts who already have SMS competency certificates, totaling 219 people. Through PKM and PPI Curug activities, it is hoped that they can provide useful skills and training for participants, as well as experience for participants and the lecturers themselves.
References
Adjekum, D. K., & Tous, M. F. (2020). Assessing the relationship between organizational management factors and a resilient safety culture in a collegiate aviation program with Safety Management Systems (SMS). Safety Science, 131, 104909. https://doi.org/10.1016/J.SSCI.2020.104909
Adjekum, D. K. (2017). An Evaluation of the Relationships between Collegiate Aviation Safety Management System Initiative, Self-Efficacy, Transformational Safety Leadership and Safety Behavior mediated by Safety Motivation. International Journal of Aviation, Aeronautics, and Aerospace, 4(2), 4. https://doi.org/https://doi.org/10.15394/ijaa.2017.1169
Annex 19 Safety Management, ICAO 1 (2016).
Aswia, P. R., & Lestary, D. (2015). Optimalisasi Star Rna V 1 Menggunakan Konsep Point Of Merge di Wilayah Terminal Airspace Bandar Udara Soekarno Hatta. Langit Biru: Jurnal Ilmiah Aviasi, 8(02), 29–41. https://doi.org/10.54147/Langitbiru.V8I02.537
Boysen, P. G. (2013). Just culture: A foundation for balanced accountability and patient safety. Ochsner Journal.
Braithwaite, G. (2012). Safety management systems in aviation. Air Transport in the 21st Century: Key Strategic Developments, 317–328. https://doi.org/10.4324/9781315607504/safety-management-systems-aviation-alan-stolzer-john-goglia
CASR 19 Sistem Manajemen Keselamatan, Pub. L. No. CASR 19, Kementerian Perhubungan Republik Indonesia 1 (2017).
Dekker, S. W. A. (2008). Just culture: who gets to draw the line? Cognition, Technology & Work 2008 11:3, 11(3), 177–1
ICAO. (1993). (29) Circular 241-An/145 Human Factors Digest No. 8 Human Factors In Air Traffic Control | Fatiya Amirah Walid - Academia.edu. In ICAO.
Krisna, P., Wardana, S., Lestary, D., Aswia, R., Penerbangan, P., & Curug, I. (2021). Pengaruh Implementasi Safety Management System Terhadap Pelayanan Navigasi Penerbangan. Langit Biru: Jurnal Ilmiah Aviasi, 14(01), 01–07. https://doi.org/10.54147/Langitbiru.V14I01.378
Lestary, D., Aswia, R., Andina, E., Penerbangan, P., & Curug, I. (2021). Analisis Beban Kerja PLLU Terhadap Pelayanan Lalu Lintas Penerbangan di Perum LPPNPI Cabang Denpasar. Journal of Airport Engineering Technology (JAET), 2(01), 16–21. https://doi.org/10.52989/JAET.V2I01.46
Lestary, D. (2020). Implementation Of Just Culture In Safety Policy And Safety Reporting Documentation At Air Navigation Service Provider. Journal of Theoretical and Applied Information Technology, 98(10), 1777–1790.
Marx, D. (2019). Patient Safety and the Just Culture. Obstetrics and Gynecology Clinics, 46(2), 239–245. https://doi.org/10.1016/J.OGC.2019.01.003
Organisasi dan Tata Kerja Politeknik Penerbangan Indonesia Curug, Pub. L. No. PM 100, 21 (2021).
Robertson, M. F. (2018). Examining the Relationship Between Safety Management System Implementation and Safety Culture in Collegiate Flight Schools. Journal of Aviation Technology and Engineering, 7(2), 1. https://doi.org/10.7771/2159-6670.1169
Safety Management Manual Doc 9859, ICAO 1 (2018).
Undang-undang Penerbangan, Kementerian Perhubungan 1 (2009).
Yeun, R., Bates, P., & Murray, P. (2014). Aviation safety management systems. World Review of Intermodal Transportation Research, 5(2), 168–196. https://doi.org/10.1504/WRITR.2014.067234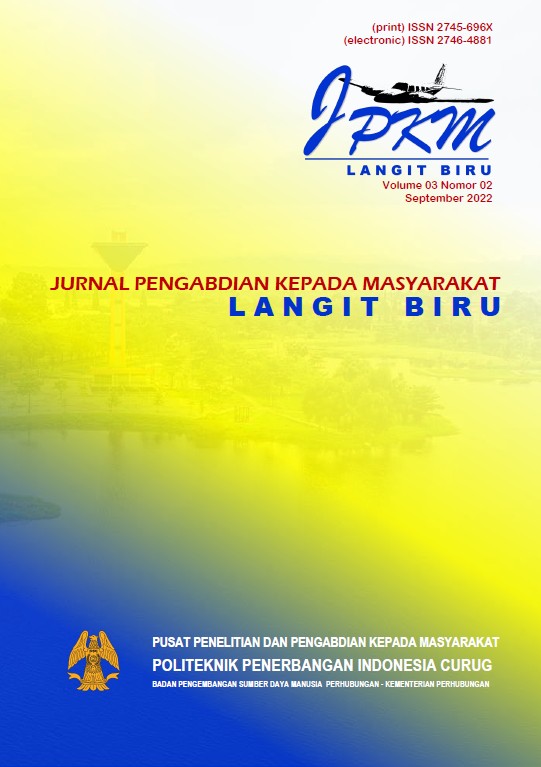 Copyright (c) 2023 Dwi Lestary
This work is licensed under a Creative Commons Attribution-NonCommercial-NoDerivatives 4.0 International License.