Pemilihan Runway Berdasarkan Arah Angin Tiap Musim Di Bandar Udara Budiarto
Arum Hidayati

Stasiun Meteorlogi Budiarto

Ratna Komala

Stasiun Meteorologi Budiarto

Henry Riyandi

Stasiun Meteorologi Budiarto

Herman Susanto

Politeknik Penerbangan Indonesia Curug
Keywords:
Runway Selection, Aviation Weather, Wind Vector, Windrose
Abstract
Take off and landing process must consider the direction and speed of the wind in order to avoid fatal incidents on aircraft, especially for small-bodied aircraft such as those owned by the Indonesian Aviation Polytechnic Curug (PPIC). Fast, precise and accurate wind information can be a decision support for pilots and ATC to determine a safe runway for takeoff and takeoff processes. Changes in regional scale wind direction occur monsoonally in most areas in Indonesia which affect the change in surface wind direction. This study aims to find the direction of most winds blowing at Budiarto Airport using the WindRose (Mawar Angin) application. By knowing the dominant wind direction based on the month and season to determine the runway to be used at Budiarto Airport. Hourly wind direction and speed data from the Budiarto Meteorological Station for a five-year period from January 2015 to December 2019. From the results of the study, it was concluded that based on the value of headwind and crosswind events during 2015-2019 the use of Runway 04 was good to use during the rainy season and Runway 12 during the dry season, while in the transition season the Runway is best used is Runway 04. The decision to use the runway is still left to the relevant parties such as ATC and the Pilot by considering other things other than information on wind direction and speed
Downloads
Download data is not yet available.
References
Aviation, C., & Zealand, N. (2019). Part 91. May.
Cerón Bretón, J. G., Cerón Bretón, R. M., Martínez Morales, S., Kahl, J. D. W., Guarnaccia, C., Lara Severino, R. del C., Rangel Marrón, M., Ramírez Lara, E., Espinosa Fuentes, M. de la L., & Uc Chi, M. P. (2020). Health risk assessment of the levels of BTEX in ambient air of one urban site located in Leon, Guanajuato, Mexico during two climatic seasons. Atmosphere, 11(2), 165.
Fadholi, A. (2013a). Analisis Data Arah Dan Kecepatan Angin Landas Pacu ( Runway ) Menggunakan Aplikasi Windrose Plot ( Wrplot ). Analisa Data Arah Dan Kecepatan Angin, 9(September), 84–91.
Fadholi, A. (2013b). Analisis Komponen Angin Landas Pacu ( Runway ) Bandara Depati Amir Pangkalpinang. Statistika, 13(2), 45–53.
Fatkhuroyan, F., Wati, T., & Kamid, A. (2018). Karakteristik Angin dan Temperatur Disekitar Calon Bandara Kulon Progo Untuk Keperluan Take Off dan Landing Pesawat. PROSIDING SEMINAR NASIONAL FISIKA (E-JOURNAL), 7, SNF2018-PA.
Gede, I. D., & Putra, A. (2017). KEJADIAN CROSSWIND DI LANDASAN PACU BANDARA SUPADIO PONTIANAK TAHUN 2016. 390–394.
Giarno, G., Dupe, Z. L., & Mustofa, M. A. (2012a). Kajian Awal Musim Hujan dan Awal Musim Kemarau di Indonesia. Jurnal Meteorologi Dan Geofisika, 13(1).
Giarno, G., Dupe, Z. L., & Mustofa, M. A. (2012b). Kajian Awal Musim Hujan Dan Awal Musim Kemarau Di Indonesia. Jurnal Meteorologi Dan Geofisika, 13(1), 1–8. https://doi.org/10.31172/jmg.v13i1.113
Konstruksi, M. (n.d.). EVALUASI PANJANG DAN ARAH LANDAS PACU DI BANDAR UDARA SULTAN MUHAMMAD KAHARUDDIN SUMBAWA.
Kunci, K., Gino, S. T., & Pendahuluan, I. (2002). SELAMA KEGIATAN TMC REDISTRIBUSI CURAH HUJAN. 5–10.
Kusumaningtyas, M. A., Bramawanto, R., Daulat, A., & Pranowo, W. S. (2014). Kualitas perairan Natuna pada musim transisi. DEPIK Jurnal Ilmu-Ilmu Perairan, Pesisir Dan Perikanan, 3(1).
Leroy, M. (n.d.). P2 ( 42 ) : Crosswind and tailwind for aeronautical purpose : how to calculate them ? 2(42).
Niswah, R. R. (2016). Evaluasi ketersediaan ruang udara dalam kaitannya dengan keselamatan operasional penerbangan di Bandara Husein Sastranegara. Institut Teknologi Sepuluh Nopember.
PERPRES 61. (2015). Jurnal Meteorologi Klimatologi dan Geofisika. In Bmkg (Vol. 2, Issue 2).
Sariana, S., Jumarang, M. I., & Adriat, R. (n.d.). Kajian Pola Angin Permukaan di Bandara Supadio Pontianak. PRISMA FISIKA, 6(2), 108–116.
Taolin, R. I. C. O., Impron, I., Hidayati, R., & Budianto, B. (2017). Profil Cuaca dan Parameter Nisbah Bowen di Areal Persawahan Kabupaten Indramayu Saat Periode Kering Musim Tanam II. Savana Cendana, 2(01), 15–18. https://doi.org/10.32938/sc.v2i01.80
Unima, F. F. (2020). Analisis Data Angin Permukaan Di Bandara Sam. 1.
Utami, A. R., & Surachman, L. (2019). Evaluasi Azimuth Landasan Bandar Udara Internasional Husein Sastranegara Dengan Metode Wind Rose Azimuth Evaluation of Runway of Husein Sastranegara International Airport Using Wind Rose Method. September, 10–14.
Wijayanti, D. (2015). Rancang bangun alat ukur kecepatan dan arah angin berbasis arduino uno atmega 328p. Inovasi Fisika Indonesia, 4(3).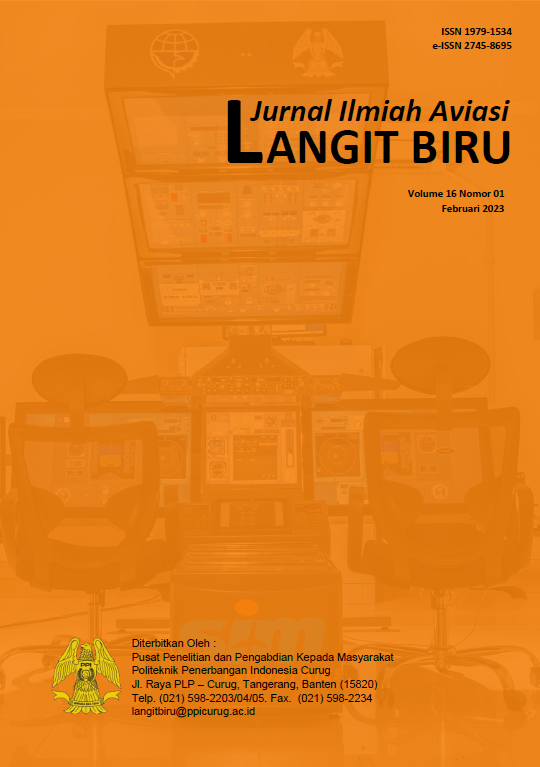 How to Cite
1.
Hidayati A, Komala R, Riyandi H, Susanto H. Pemilihan Runway Berdasarkan Arah Angin Tiap Musim Di Bandar Udara Budiarto. JIA [Internet]. 2023Feb.28 [cited 2023Jun.10];16(01):01-9. Available from: https://journal.ppicurug.ac.id/index.php/jurnal-ilmiah-aviasi/article/view/617
Copyright (c) 2023 Arum Hidayati, Ratna Komala, Henry Riyandi, Heman Susanto
This work is licensed under a Creative Commons Attribution-NonCommercial-NoDerivatives 4.0 International License.