Pengaruh Workload Terhadap Kinerja Air Traffic Controller di Perum LPPNPI Cabang Pembantu Tanjung Pandan
Dwi Lestary

Politeknik Penerbangan Indonesia Curug

Amanda Yessy Novantika

Politeknik Penerbangan Indonesia Curug

Djoko Jatmoko

Politeknik Penerbangan Indonesia Curug

Imam Sonhaji

Politeknik Penerbangan Indonesia Curug
Keywords:
Air Traffic Controller, ATC Workload, ATC Performance
Abstract
The Perum LPPNPI Tanjung Pandan Sub-branch lacks personnel, but the strategic location of the airport causes many small planes to refuel, which affects the increase in traffic. This, of course, causes the workload to increase as well. The Controller's service schedule is not in accordance with PM No. 166 of 2020. This study aims to find out how much influence workload has on the performance of air traffic controllers at Perum LPPNPI Tanjung Pandan Sub-Branch. The research method used is a quantitative method with a descriptive approach. Collecting data using a questionnaire survey and documentation study. Data were analyzed with validity, reliability, normality, correlation, and simple linear regression tests. The research instrument used was the NASA TLX method, and with a result of 90.62%, it was concluded that the category of workload level and ATC performance at Perum LPPNPI Tanjung Pandan Sub-branch was classified as very high. The results showed that the workload had a strong and significant influence on ATC performance.
Downloads
Download data is not yet available.
References
Empati, J., Puspitasari, M. D., Kustanti, E. R., & Controller, A. T. (2018). Hubungan Antara Persepsi Beban Kerja Dengan Stress Kerja Pada Air Traffic Controller Di Perum Lppnpi Airnav Indonesia Cabang Madya Surabaya. Empati, 7(1), 113–118.

Field, M. (2001). MEASURES FOR AIR TRAFFIC CONTROLLER WORKLOAD PREDICTION. c.

Fitri, A., Adiliawijaya, R, P., Abimanyu, Y. (2019).
PENGARUH KINERJA AIR TRAFFIC CONTROLLER TERHADAP WAKTU TUNDA PADA TAXIWAY (TAXI-OUT DELAY) DI BANDAR UDARA INTERNASIONAL SOEKARNO-HATTA TANGERANG BANTEN.

Fitri, A., Sadiatmi, R., & Arti, S. E. (2019).
PENGARUH FATIGUE TERHADAP KINERJA PERSONIL AIR TRAFFIC CONTROLLER DI UNIT AERODROME CONTROL TOWER JAKARTA AIR TRAFFIC SERVICE CENTER (JATSC).

Fothergill, S., & Neal, A. (2008). The effect of workload on conflict decision making strategies in air traffic control. Proceedings of the Human Factors and Ergonomics Society, 1, 39–43. https://doi.org/10.1177/154193120805200110

Hancock, & Mesahkati. (1988). Development of NASA-TLX. Human Mental Workload. Advances in Psychology, 52, 139–183.

ICAO. (1090). HUMAN FACTOR DIGEST No. 8. Greville House.

Indartono, S. (2016). Buku Pengantar Manajemen : Character Inside.http://staffnew.uny.ac.id/upload/132303694/pendidikan/Buku Pengamen.pdf

Kaber, D. B., Perry, C. M., Segall, N., & Sheik-Nainar, M. A. (2007). Workload state classification with automation during simulated air traffic control. International Journal of Aviation Psychology, 17(4), 371–390. https://doi.org/10.1080/10508410701527860

Kurniawan, A. widhi, & Puspita, N. Z. (2016). Metode Penelitian Kuantitatif.

Kurniawan, J. S. (2016). Jurnal Perhubungan Udara. Implementation of Aerotropolis Interaction Concept Based Spatial in Indonesia, 42(584), 195–202.

Lestary, D., Aswia, P. R., & L, E. E. (2021). Analisis Beban Kerja PLLU Terhadap Pelayanan Lalu Lintas Penerbangan di Perum LPPNPI Cabang Denpasar. Journal of Airport Engineering Technology (JAET), 2(01), 16–21. https://doi.org/10.52989/jaet.v2i01.46

Loft, S., Sanderson, P., Neal, A., & Mooij, M. (2007). Modeling and predicting mental workload in en route air traffic control: Critical review and broader implications. Human Factors, 49(3), 376–399. https://doi.org/10.1518/001872007X197017

Maharja, R. (2015). ANAlISIS TINGKAT KELELAHAN KERJA BERDASARKAN BEBAN KERJA FISIK PERAWAT DI INSTALASI RAWAT INAP RSU HAJI SURABAYA. The Indonesian Journal of Occupational Safety and Health, 4(1), 93. https://doi.org/10.20473/ijosh.v4i1.2015.93-102

Majumdar, A., & Ochieng, W. Y. (n.d.). Factors Affecting Air Traffic Controller Workload. 02.

Manning, C., Fox, C., Pfleiderer, E., Mills, S., & Mogilka, H. (2002). The Relationship between Air Traffic Control Communication Events and Measures of Controller Taskload and Workload. Air Traffic Control Quarterly, 10(2), 69–83. https://doi.org/10.2514/atcq.10.2.69

Metzger, U., & Parasuraman, R. (2017). Automation in future air traffic management: Effects of decision aid reliability on controller performance and mental workload. Decision Making in Aviation, 47(1), 345–359. https://doi.org/10.4324/9781315095080-22

Mustopo, W. I., & Salim, A. (2021). Hubungan Beban Kerja Dengan Motivasi Kerja Pada Petugas Air Traffic Control (ATC) Bandara X. Intensi : Jurnal Psikologi, 1(1), 27–36. https://doi.org/10.31479/intensi.v1i1.4

Perhubungan, K. (2020). KP_166_TAHUN_2020.pdf.

Putri, R, A., Tambunan, W., & Fathimahhayati, L, D. (2018). Analisis Pengaruh Shift kerja terhadap Beban Kerja Mental pada Operator Air Traffic Control (ATC) dengan Metode NASA-TLX (Studi Kasus: Bandar Udara Internasional X).

Ruminski, R. R., Underwood, S., Vallely, K., & Smith, S. J. (1998). N o te s. Notes, Ii, 6528–6531.

Seftiyana, V. C. (2021). Mental Workload of Air Traffic Control (Atc) Personnel At Adisutjipto International Airport. Vortex, 2(2), 57. https://doi.org/10.28989/vortex.v2i2.1008

Soegiyono. (2011). Metode Penelitian Kuantitatif, Kualitatif dan R&D.

Wiegmann, D.A. and Shappell, S. A. (2003). A Human Error Approach To Aviation. Ashgate Publishing Limited, 161.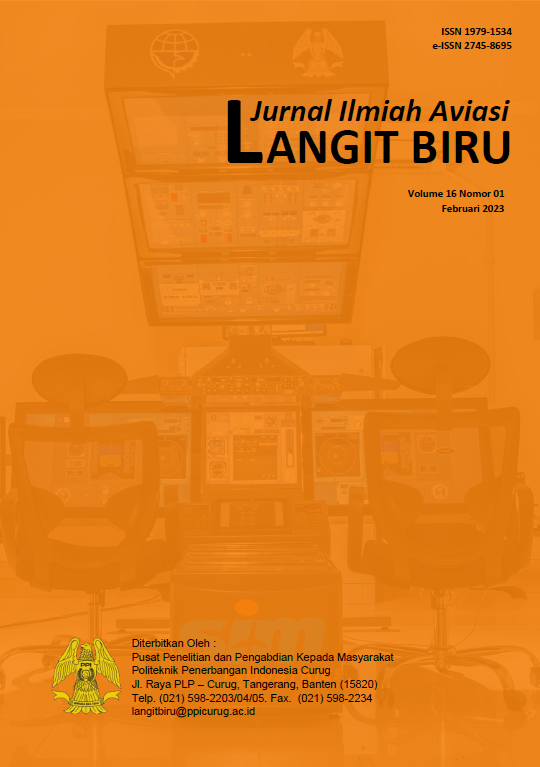 How to Cite
1.
Lestary D, Novantika AY, Jatmoko D, Sonhaji I. Pengaruh Workload Terhadap Kinerja Air Traffic Controller di Perum LPPNPI Cabang Pembantu Tanjung Pandan. JIA [Internet]. 2023May19 [cited 2023Jun.10];16(01):32-1. Available from: https://journal.ppicurug.ac.id/index.php/jurnal-ilmiah-aviasi/article/view/635
Copyright (c) 2023 Dwi Lestary, Amanda Yessy Novantika, Djoko Jatmoko, Imam Sonhaji
This work is licensed under a Creative Commons Attribution-NonCommercial-NoDerivatives 4.0 International License.