Evaluasi Pelaksanaan Training Instructor Course (TIC) Di Pusat Pengembangan Sumber Daya Manusia Perhubungan Udara
I Gusti Agung Ayu Mas Oka

Politeknik Penerbangan Palembang

Syukri Hamzah

Universitas Bengkulu

Hadi Winata

Universitas Bengkulu

I M. Bayu Astika

Pusat Pengembangan SDM Perhubungan Udara
Keywords:
Evaluation, Instructor, Kirkpatrick, Training
Abstract
This study aims to evaluate the implementation of the Training Instructor Course (TIC) at the Centre of Human Resources Development on Civil Aviation (CHRDCA) using the Kirkpatrick model. TIC training was developed and standardized by the International Civil Aviation Organization (ICAO). ICAO has developed level 1, 2 and 3 evaluations for TIC training, but has not yet developed level 4 evaluations. CHRDCA can access evaluation levels 1 and 2 from the Trainair Plus Electronic Management System (TPEMS). The evaluation results at level 1 were very good with an average score of 4.73. The results of the level 2 evaluation showed that all participants passed with an average score of 87.1. Level 3 evaluation results are managed directly by ICAO so CHRDCA cannot access them. However, the researchers conducted a survey with the results showing that there was an increase in the quality of behaviours in managing learning. Based on the results of the evaluation at level 3, it can be concluded that at evaluation level 4 there will be an increase in student learning results as a result of an increase in the instructor's pedagogical competence.
Downloads
Download data is not yet available.
References
Alsyaibany, R. R. (2019). The evaluation of effectiveness on education and training program. Journal of Educational and Learning Studies, 2(1), 56. https://doi.org/10.32698/0662
Aswidiyanto, Y., & Soedjarwo. (2020). Peran Instruktur dalam Pelatihan Keterampilan Sulam di Balai Pelayanan dan Rehabilitasi Sosial PMKS Sidoarjo. Jurnal Pendidikan Untuk Semua, 4(1), 16–31.
Buchari, A. (2018). Peran Guru Dalam Pengelolaan Pembelajaran. Jurnal Ilmiah Iqra', 12(2), 106. https://doi.org/10.30984/jii.v12i2.897
EL Hajjar, S. T., & Alkhanaizi, M. S. (2018). Exploring the Factors That Affect Employee Training Effectiveness: A Case Study in Bahrain. SAGE Open, 8(2). https://doi.org/10.1177/2158244018783033
Elfrianto. (2016). Manajemen Pelatihan Sumber Daya Manusia Dalam Meningkatkan Mutu Lulusan. EduTech: Jurnal Ilmu Pendidikan Dan Ilmu Sosial, 2(2), 46–58.
Haslianti, H. (2019). Pengaruh Kebisingan Dan Motivasi Belajar Terhadap Konsentrasi Belajar Pada Siswa. Psikoborneo: Jurnal Ilmiah Psikologi, 7(4), 608–614. https://doi.org/10.30872/psikoborneo.v7i4.4839
Jayusman, I., & Shavab, O. A. K. (2020). Aktivitas Belajar Mahasiswa Dengan Menggunakan Media Pembelajaran Learning Management System (Lms) Berbasis Edmodo Dalam Pembelajaran Sejarah. Jurnal Artefak, 7(1), 13. https://doi.org/10.25157/ja.v7i1.3180
Kirkpatrick, D. L., & Kirkpatrick, J. D. (2008). Evaluating Training Programms-The Four Levels (Third Edit). Berrett-Koehler Publishers, Inc.
M. Brunner, I. M. I., & F. Rostiyanti, S. (2019). Kenaikan Tingkat Kebisingan Ruangan Kelas Akibat Pengaruh Penyejuk Udara dan Lalu Lintas. Jurnal Serambi Engineering, 5(1), 852–860. https://doi.org/10.32672/jse.v5i1.1657
Nuraini, E., Hermawan, A., Hubeis, A. V., & Panjaitan, N. K. (2016). Kajian Evaluasi Pelatihan Program Pengembangan Manajemen. Jurnal Aplikasi Manajemen, 14(2). https://doi.org/10.18202/jam23026332.14.2.07
Rakib, M., Rombe, A., & Yunus, M. (2017). Pengaruh Pelatihan Dan Pengalaman Mengajar Terhadap Profesionalitas Guru. Jurnal Ad'ministrare, 3(2), 137–148.
Rohmah, Nurruli, F. (2018). Pelatihan dan Pengembangan Sumber Saya Manusia. Jurnal Manajemen Pendidikan Islam, 2(1), 1–11.
Sari, A. U. (2021). Evaluasi Pelatihan Dengan Model Evaluasi Kirkpatrick Di Balai Perlindungan Dan Rehabilitasi Sosial Wanita (Bprsw). Jurnal Manajemen Pendidikan Dan Pelatihan, 5(3), 269–274.
Saroyo, Runtuwene, M. R. J., & Lombogia, S. O. B. (2020). Pendidikan dan Pelatihan PEKERTI-AA di Universitas Sariputra Indonesia Tomohon. Jurnal Lentera, 1(1), 5–9.
Setiyowati, P. (2012). Pengaruh Kompetensi Pedagogik Guru Terhadap Minat Belajar. Prosiding Seminar Nasional, 9, 279–285.
Siregar, E. (2018). Faktor-Faktor Yang Mempengaruhi Manajemen Pendidikan Dan Pelatihan (Diklat) Dalam Upaya Pengembangan Sumber Daya Manusia (Sdm). Jurnal Dinamika Pendidikan, 11(2), 153. https://doi.org/10.33541/jdp.v11i2.812
Stufflebeam, Daniel L., & Madaus, G. F. (1984). Systematic Evaluation (A Self-Instructional Guide to Theory and Practice). Kluwer-Nljhoff Publishing.
Stufflebeam, Danile L., & Coryn, C. L. S. (2007). Evaluation Theory, Models, & Applications (Second Edi). Jossey-Bass (A Wiley Brand). https://www.ptonline.com/articles/how-to-get-better-mfi-results
Sudding, Husain, H., & Fahmuddin s., M. (2021). Pengaruh Keikutsertaan Dosen Pada Pelatihan Pekerti Terhadap Kemampuan Pedagogisnya. Seminar Nasional Hasil Penelitian 2021, 11, 2462–2465.
Sugiyono. (2021). Metode Penelitian Pendidikan (Kuantitatif, Kualitatif, Kombinasi, R&D dan Penelitian Pendidikan (Ketiga). Penerbit ALFABETA Bandung.
Tamsuri, A. (2022). Literatur Review Penggunaan Metode Kirkpatrick untuk Evaluasi Pelatihan di Indonesia. Jurnal Inovasi Penelitian, 2(8), 2723–2734.
Utomo, A. P., & Tehupeiory, K. P. (2014). Evaluasi Pelatihan dengan Metode Kirkpatrick Analysis. Jurnal Telematika, 9(2), 37–41.
Wartiningsih, W. (2021). Evaluasi Kirckpatrick'S Pelatihan Pengelolaan Kampung Kb. SELAPARANG Jurnal Pengabdian Masyarakat Berkemajuan, 4(2), 113. https://doi.org/10.31764/jpmb.v4i2.4082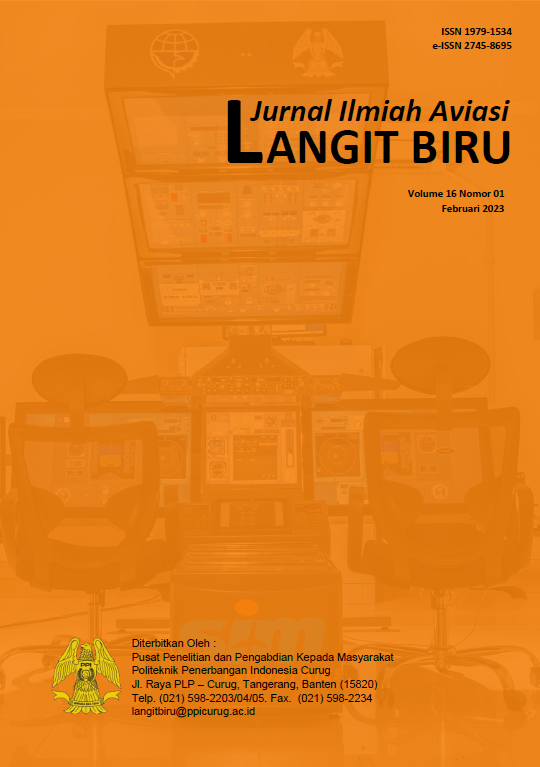 How to Cite
1.
Oka IGAAM, Hamzah S, Winata H, Astika IMB. Evaluasi Pelaksanaan Training Instructor Course (TIC) Di Pusat Pengembangan Sumber Daya Manusia Perhubungan Udara. JIA [Internet]. 2023Feb.28 [cited 2023Jun.10];16(01):10-9. Available from: https://journal.ppicurug.ac.id/index.php/jurnal-ilmiah-aviasi/article/view/637
Copyright (c) 2023 I Gusti Agung Ayu Mas Oka
This work is licensed under a Creative Commons Attribution-NonCommercial-NoDerivatives 4.0 International License.