Perlunya Penambahan AWOS DISPLAY pada Approach Control Surveillance untuk Mengurangi Load Of Coordination Air Traffic Controller di Perum LPPNPI Cabang Tanjungpinang
Bayu Ferdianto

Politeknik Penerbangan Indonesia

Martha Saulina
Keywords:
Air Traffic Controller (ATC), AWOS, Coordination
Abstract
Raja Haji Fisabilillah International Airport is an international airport located in Tanjungpinang City. The Air Traffic Control Unit at Raja Haji Fisabilillah is divided into two units, namely the Aerodrome Control Tower and Approach Control Surveillance. This study aims to reduce the Load Of Coordination ATC. The unavailability of the AWOS Display facility in the Approach Control Surveillance room resulted in a lot of coordination by the ATC on duty when bad weather occurred, thus making the pilots wait for meteorological information updates. In fact, the ATC that manages the Approach Control Surveillance often coordinates in advance with the ATC that manages the Aerodrome Control Tower to ask about the weather at that time even though they have already received weather information from the Meteorology Unit. Various obstacles that often arise in the world of aviation are inseparable from the lack of existing facilities, including facilities in the air traffic staff workspace where these facilities are used to carry out air traffic services, as well as facilities on the runway. air traffic control area that functions to ensure the safety and smooth operation of flights.
References
David Folarin, K. (2021). Tenerife Airport Disaster. Quest Journals Journal of Research in Applied Mathematics, 7(2), 2394–0735. www.questjournals.org
Gultepe, I., Sharman, R., Williams, P. D., Zhou, B., Ellrod, G., Minnis, P., Trier, S., Griffin, S., Yum, S. S., Gharabaghi, B., Feltz, W., Temimi, M., Pu, Z., Storer, L. N., Kneringer, P., Weston, M. J., Chuang, H. ya, Thobois, L., Dimri, A. P., … Neto, F. L. A. (2019). A Review of High Impact Weather for Aviation Meteorology. Pure and Applied Geophysics, 176, 1–53. https://doi.org/10.1007/s00024-019-02168-6
ICAO. (2002). Training Manual Part F-1 Meteorology for Air Traffic Controllers and Pilots.
ICAO. (2011). Manual of Aeronautical Meteorological Practice.
ICAO. (2014). Manual on Coordination between Air Traffic Services, Aeronautical Information Services and Aeronautical Meteorological Services. In International Organization (Vol. 6).
ICAO. (2016). Doc 4444 Air Traffic Management.
ICAO. (2018). Annex 11 Air Traffic Services (Fifteenth).
John W. Andrews. (1993). Impact of Weather Event Uncertainty upon an Optimum Ground-Holding Strategy. 1(1). https://doi.org/https://doi.org/10.2514/atcq.1.1.59
KNKT. (2016). Data Investigasi Kecelakaan Penerbangan. Media Release KNKT, 2016(November), 1–17. http://knkt.dephub.go.id/knkt/ntsc_home/Media_Release/Media Release KNKT 2016/Media Release 2016 - IK Penerbangan 20161130.pdf
Luh, N., Ulandari, C., Dyahjatmayanti, D., Udara, M. T., Tinggi, S., & Kedirgantaraan, T. (2022). Analisis Komunikasi Air Traffic Control ( Atc ) Dalam Menjaga Kelancaran Lalu Lintas Penerbangan Di Airnav Indonesia. 6(1), 1–9.
Mueller, E. R., & Chatterji, G. B. (2002). Analysis of aircraft arrival and departure delay characteristics. AIAA's Aircraft Technology, Integration, and Operations (ATIO) 2002 Technical Forum, October, 1–14. https://doi.org/10.2514/6.2002-5866
Oktaviana, H., Olieve, A., & Sudrajat. (2020). TINJAUAN PEMBERIAN INFORMASI METEOROLOGI TERHADAP PELAYANAN LALU LINTAS PENERBANGAN DI BANDAR UDARA SAM RATULANGI MANADO. 1–8.
Schultz, M., Lorenz, S., Schmitz, R., & Delgado, L. (2018). Weather Impact on Airport Performance. 1–19. https://doi.org/10.3390/aerospace5040109
Sharman, R. D., & Trier, S. B. (2019). Influences of Gravity Waves on Convectively Induced Turbulence (CIT): A Review. Pure and Applied Geophysics, 176, 1–36. https://doi.org/10.1007/s00024-018-1849-2
UNDANG-UNDANG REPUBLIK INDONESIA NOMOR 1 TAHUN 2009. (2009).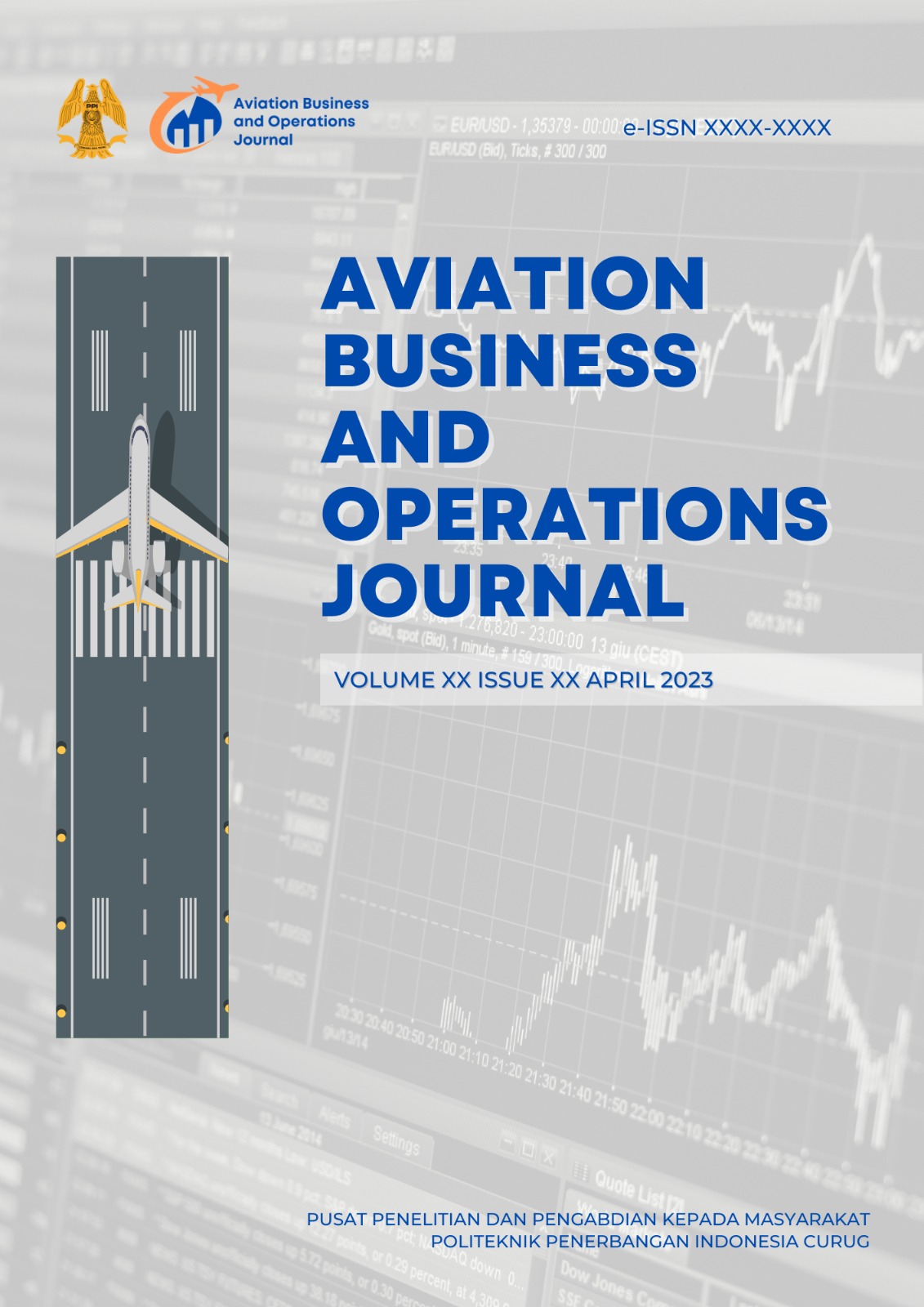 How to Cite
Bayu Ferdianto, & Martha Saulina. (2023). Perlunya Penambahan AWOS DISPLAY pada Approach Control Surveillance untuk Mengurangi Load Of Coordination Air Traffic Controller di Perum LPPNPI Cabang Tanjungpinang. Aviation Business and Operations Journal, 1(01), 13 - 19. https://doi.org/10.54147/jobp.v1i01.797
Copyright (c) 2023 Bayu Ferdianto, Martha Saulina
This work is licensed under a Creative Commons Attribution-NonCommercial-NoDerivatives 4.0 International License.